Total prize pool
367.12K FXCE

(

1 546 Participants

)
Start (GMT+3)
10/10/2022 00:00
(Local time: 10/10/2022 04:00)
End (GMT+3)
06/11/2022 23:59
(Local time: 07/11/2022 03:59)
Donation
367.12K FXCE

(

View more

)
Contest Information
Participant list
TOP Talents
PRIZE STRUCTURE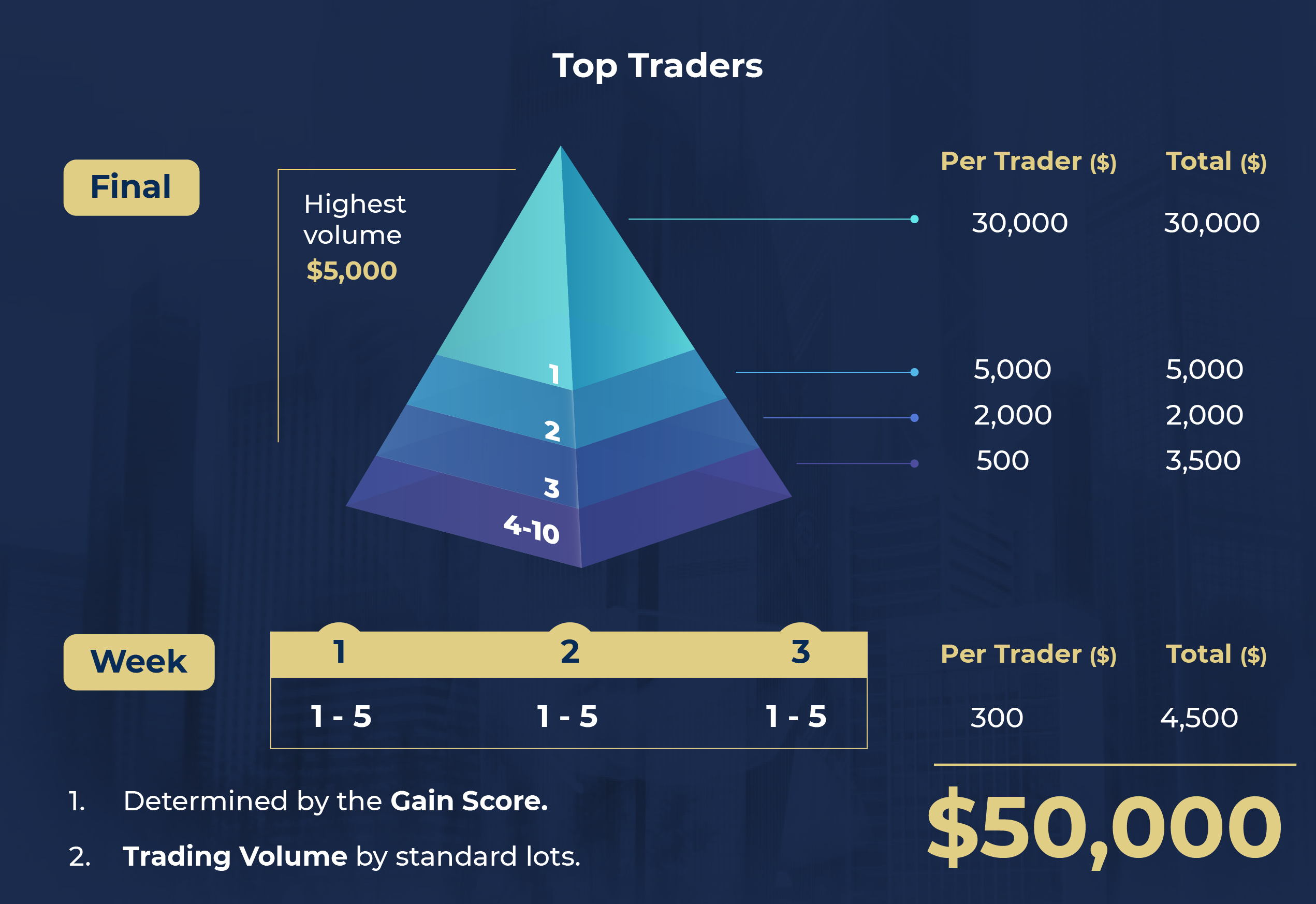 ♦ Top Traders
The top traders with the highest Gain Score will receive the corresponding prizes. 
♦ Highest Volume
Only one trader with the highest Trading Volume will get the prize of $5,000.
*Prizes will be converted to FXCE token & distributed to the winners' wallets on FXCE platform.
CONTEST TIMELINE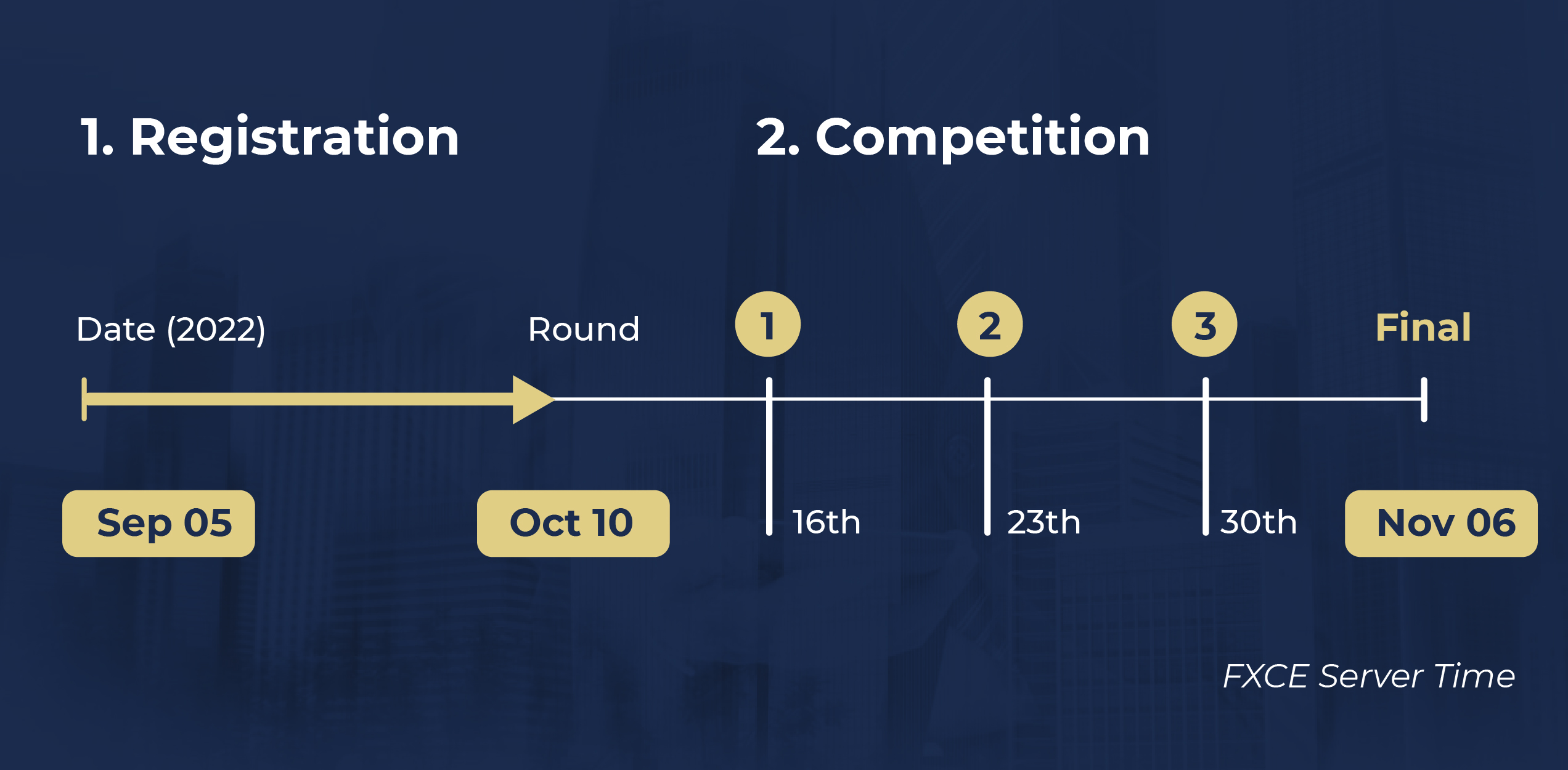 CONTEST RULES
PRE-QUALIFICATION
Account: New LIVE trading account
(auto-created upon registration)
Max registration: 3 trading accounts/user
Min deposit to compete for prizes: $50
PRIZE QUALIFICATION
The trading account must be profitable. Participants must close all open positions:
♦ by 23:59 (FXCE Server Time) on each Sunday for weekly prize review, and
♦ by 23:59 (FXCE Server Time) on Nov 06, 2022 for final prize review.
*The deadline to deposit is 23:59 Oct 31 (Server Time).
PRIZE DISQUALIFICATION
♦ Trading accounts with orders entered before the contest start time. 
♦ Reciprocal trade, gap trading, pricing error, or any forms of abnormal profit exploits. 
*The Organizer reserves the right, in its sole discretion, to disqualify any Participant
that is found or suspected of performing foregoing exploits without prior notice.
And, in any case, the organizer's decision is final.
GAIN SCORE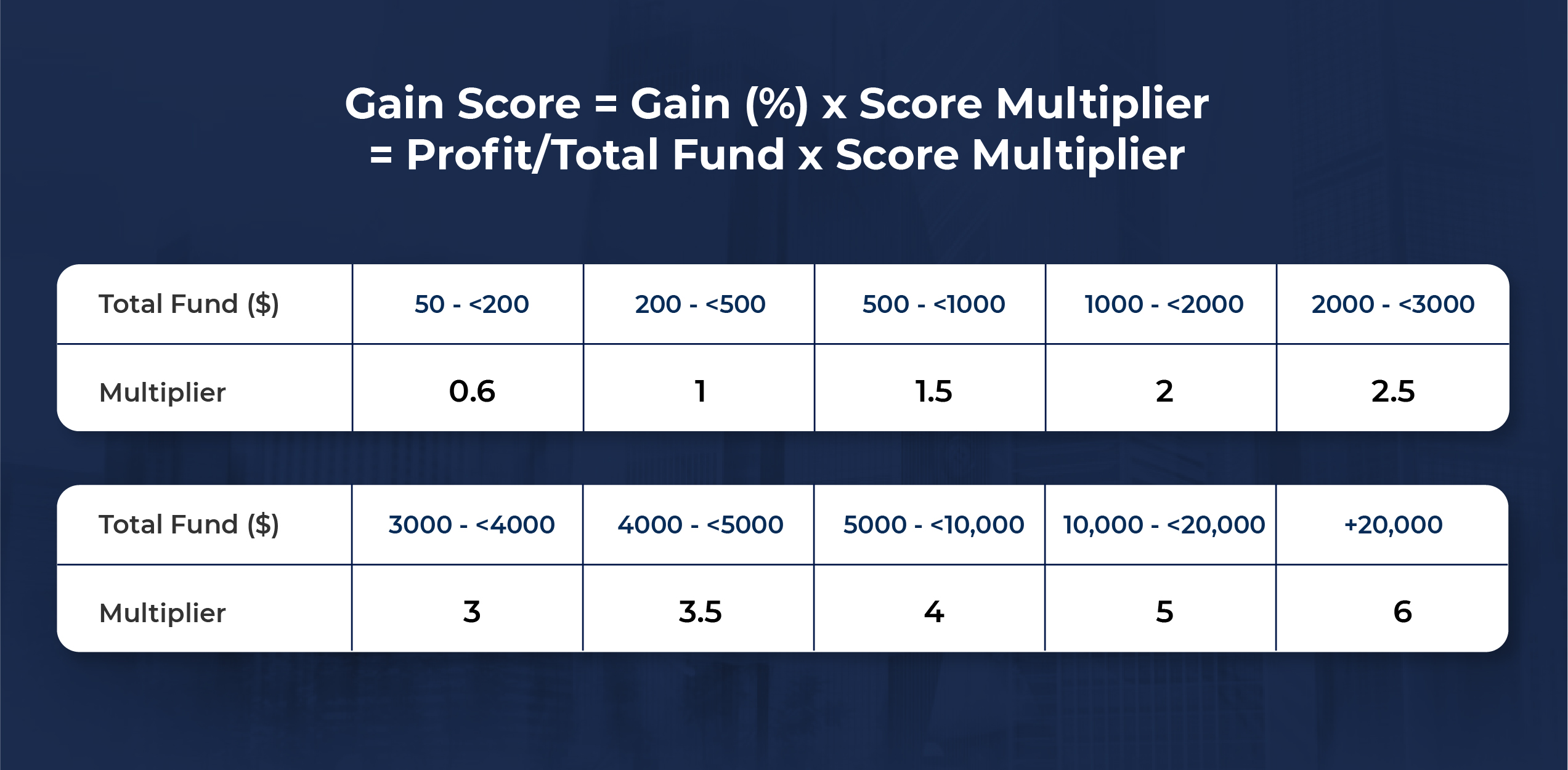 *Any trading account with an insufficient deposit (less than $50) is not eligible to compete for prizes. 
Example: A participant deposits $250 and gets a profit of $30.
The respective score multiplier is 1.
So his Gain Score is 30/250 x 1 = 12%.
TRADING VOLUME
Trading volume is determined based on standard lots. 
For gold & forex, a standard lot is the equivalent of 100,000 units of the base currency.
The prize structure is based on $50,000 - the beginning prize pool.
Each prize amount may change proportionally if there are other donations
from community members, as a result, UNLIMITED!!!
FREQUENTLY ASKED QUESTIONS
1. Who can participate?
Any trader around the world can join the competition. 


2. How many trading accounts I can join with?
Maximum 03 trading accounts.


3. What if I register early, and then deposit later during the contest?
The deadline to deposit is 23:59 Oct 31, 2022 (Server Time). So, take it easy and enjoy the challenge!


5. What if I miss the deadline to register?
Late registration is considered a disqualification. Remember to register before the deadline! 


6. What criteria will be considered to rank the prize?
Gain Score and Trading Volume. Review the prize structure for more detail.


7. What is Score Multiplier? 
The score multiplier is a condition to multiply the trading account's gain (%) by positive factors, as a result, increasing the score earned in a contest. See more.


8. When are the weekly winners and finalists selected?
After each round, Colosseum will rank the top talents according to the rules and reward prizes immediately.


9. How and where will I get the prize?
Prizes will be converted to FXCE token and distributed to the selected winner's wallets on the FXCE platform. 


10. Who can I contact if I am having problems?
Reach us directly on Telegram ( ENG: https://t.me/fxceSTP & VIE: https://t.me/fxceSTP_VN) or via email: [email protected].